Intro
Heads
Figures
Landscapes
Press
Links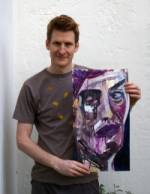 Welcome to my site.
I've been painting since I was 7 and had my first solo exhibition when I was 10.
For the last 25 years or so I've been painting the figure from life in a direct, gestural style.
My other great love is landscape and I have painted a series of landscapes in North West Norfolk. These bright fluid works express my love of a very special part of the country.
More recently Iíve enjoyed taking up a different challenge with print-making and especially like the texture that carborundum as a technique gives.
I've had solo exhibits in London and I had a very succcessful show of my paintings at Panter & Hall, Mayfair, where I sold 14 paintings and raised £700 for Barnardo's in the process. I've been part of the Brockley Open Studios and now Catford Arts Trail annual festival for many years.
Click here for images.
My main influences are George Rouault and David Bomberg. I have two lovely daughters, Ruby and Maya, both of whom are passionate creatives.
My day job is running The Edge Picture Company, Europe's leading corporate film company. www.edgepicture.com